St. Catherine's Monastery on Mount Sinai and the Balkan-Slavic Manuscript-Tradition
Abridged Version
Heinz Miklas (University of Vienna)
1. The Monastery
Fortified and provided with a main church by Emperor Justinian I around 557 (ca. 548-560), Saint Catherine's Monastery in an elevated valley (ca. 1,570 m above sea level) at the foot of Mount Sinai in Egypt is regarded as the oldest continuously existing Christian monastery in the world. Along with the earlier see of Pharan (Firan) and the former monastic site Raitho (Raith[u], al-Tūr) the monastery constitutes the independent Orthodox Church of Sinai, headed by an archbishop who is also the abbot of the coenobitic monks' congregation following the order of St. Basil.
The oldest record of Sinaitic monastic life is rerepresented by a Latin itinery written by the noble nun Egeria (Aitheria) who in the 4th century visited the Holy Land and Mt. Sinai, which was already then commonly identified with Mount Horeb, where, according to the Old Testament, Moses received the Ten Commandments from God (hence also Mt. Moses, Gabal Mūsā).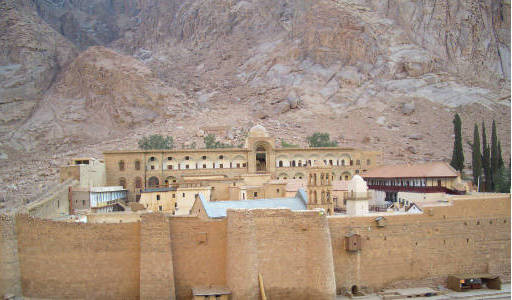 By then, the monastic complex consisted of the Chapel of the Burning Bush (Vatos), erected in the 330s on the order of Helena, the mother of Emperor Constantine I, and dedicated to the Virgin Mary (Theotokos).
Though commonly known as St. Catherine's (Ιερά Μονή Θεοβαδίστου Όρους Σινά, Αγίας Αικατερίνης), originally the site was after the Chapel (Μονή της Παναγίας της Βάτου). Since the monastery's patronal feast is the Transfiguration, it was also called after the Saviour (Μονή του Σωτήρος Χριστού). Only from the 10th century onward it gradually became associated with Catherine of Alexandria, whose relics are said to have been miraculously transferred to Mt. Sinai by angels and taken down from there by Sinaitic monks around 800. Being sacred to Christianity and Judaism, the monastery became a favourite destination of pilgrimage right from the beginning. For many centuries it was supported mainly by its dependencies in Egypt, Palestine, Syria, Crete, Cyprus and Constantinople. Support was granted also by Rome, with which the monastery stood in contact until the 15th century, and by Mt. Athos, with which it has been united since the 17th century.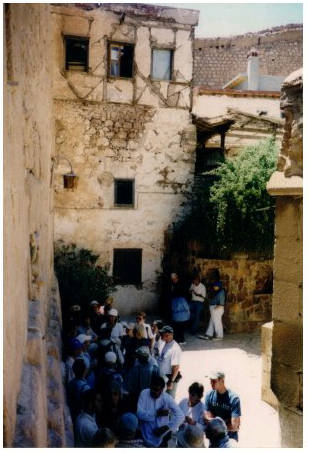 According to the 'ahdinnāme, a charter allegedly signed by Mohammed, the founder of Islam gave his protection to the Sinaitic monks after they had granted him political asylum from his enemies. For this reason, and because a Fatimid mosque was built within its walls at the beginning of the 11th century, the monastery survived Islamic dominance in the region over the centuries. However, during the Arab conquest in the 7th century the masses of isolated Christian anchorites of Sinai were eliminated, and even the monastery was on the verge of dying out. The presence of Crusaders in the area between 1099 and 1270, who founded a special order to support the monastery, spurred the interest of European Christians and increased the number of visiting pilgrims. In due course the rights of the monastery were also defended by the Popes of Rome, the Venetians, the Ottoman Sultans, Napoleon, when he conquered Egypt in 1798, Russia, and England. During its heyday in the 12th-13th century the monastery's inhabitants must have exceeded the average number of 80-100 monks. Today only 25 monks live in the monastery.
2. The Treasures of the Monastery
The monastery possesses a great variety of unique works of art: over and above church buildings the largest and most valuable collection of early icons in the world, many in encaustic (hot wax) technique, mosaics, liturgical objects such as chalices and reliquaries.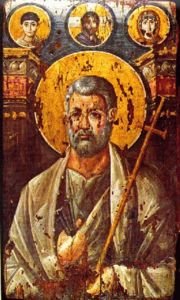 Since the monastery was untouched by Byzantine iconoclasm and never sacked, the icon collection contains samples dating from the 6th-7th century, as well as the oldest specimen on an Old Testament theme.
During the period of the Crusades, when the monastery was patronised by both the Byzantine Emperors and the rulers of the Kingdom of Jerusalem, it became a centre for the development of Crusader art. Many icons of its hybrid style were evidently painted by Latins who resided in the monastery or nearby.
While until the 1990s the monastery's treasures were mainly situated in the Katholikon and various chapels, today a special museum houses a collection of the best specimens. This is partly true also of St. Catherine's manuscripts and printed books, many of which were kept in the monks' cells until the middle of the 20th century, when the present library was erected.
With over 3,000 codices and hundreds of book-scrolls dating from the 4th century onward, the monastery holds one of the largest collections of early manuscripts, which represents the core of the only continuously growing and functioning monastic library in the Orthodox sphere. Though Greek and Arabic manuscripts predominate – including also bilingual samples –, more than a dozen languages are reported, comprising also Syriac, Armenian, Old Slavonic, Georgian, Coptic, Amharic, Persian, Turkish, Hebrew and Latin writings. In May 1975 during restoration work a hidden suite of rooms was discovered in the North-Western part of the monastery which contained a large amount of parchment codices and fragments, one of them belonging to the famous Codex Sinaiticus, the major part of which had been taken to Russia in the 19th century and was sold to the Library of the British Museum in 1933. While several items of the old and the new collection exhibit rewritten folios, a few of the newly detected palimpsests contain also texts in the hitherto disputed Caucasus-Albanian language.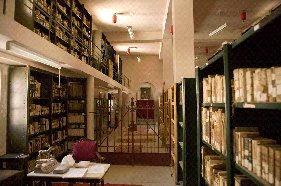 3. The Slavic Manuscripts
According to earlier reports the old collection of manuscripts contains 43 Slavic codices and fragments of the 10th/11th-18th century, most of them written in Church Slavonic of various redactions, both in the Cyrillic and the Glagolitic script. The earliest specimens represent two Glagolitic books and a Glagolitic palimpsest belonging to the Old Church Slavonic canon: the main part of the Euchologium Sinaiticum (Cod. Sin. slav. 37), the Psalterium Sinaiticum (Cod. Sin. slav. 38), and the lower layer of fol. 45 of the Cyrillic Cod. Sin. slav. 39 which derives from an Aprakos-Gospel.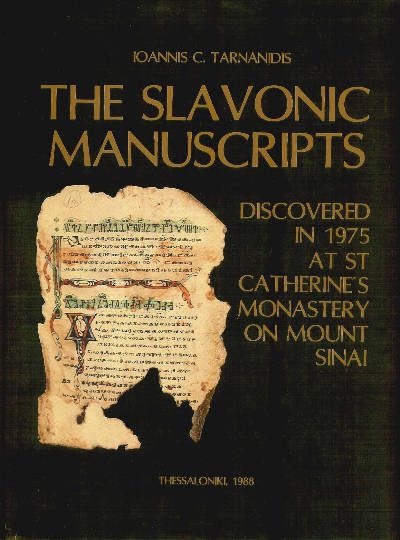 To these the new findings of 1975 added further 42 units, among them six Glagolitic ones of the 10th-12th centuries: Codd. Sin. slav. 1/N-5/N and three small bifolia with medical prescriptions, loosely attached to the only codex which is preserved in its entirety (Psalterium Demetrii – Sin. slav. 3/N). Since the old collection has not as yet received a detailed description, and the new collection also contains remnants of already known manuscripts, the exact number of the Slavic manuscripts will have to be determined in the course of a thorough examination of both collections.
In terms of their contents the Slavic manuscripts represent a fairly typical monastic collection on their own: while most of them belong to various liturgical genres, we find also typika, books of canon law, patristic writings, ascetic and apocryphic miscellanies, and some others. Even if the collection was assembled gradually and from various sources, Serbian codices predominate, and the core of the collection came into being during the 13th and 14th centuries. Compared to the other Slavic manuscript collections and depositories in the world, its most outstanding features are the great number of Glagolitic manuscripts and the large amount of parchment codices with rewritten parts.
4. The Project
In view of the specific nature of St. Catherine's manuscript holdings a proper investigation of any of its parts has to be a complex one, describing each item in its internal, e.g. Slavic, context as well as in comparison with similar samples of other, e.g. non-Slavic, collections, especially contemporary Greek witnesses and vice versa. Since many of the manuscripts have come down in a very bad condition, and quite a few of them contain palimpsests, this task will only be accomplished by a whole generation of scholars of various disciplines. So far most of the specialists working on single manuscripts or single collections have not been in close contact, even if the Ligatus initiative of the University of the Arts in London has undertaken some first steps in the right direction. (The main objective of the Ligatus unit, which is funded mainly by the St. Catherine Foundation, is the study of historic bookbinding with particular attention to conservation).
In order to foster scholarship and preserve the manuscripts from decay, the monastery's present abbot, Archbishop Damianos, has initiated a digitization project which is part of a comprehensive conservation program, funded by European and American institutions and individuals. After a few years with less sophisticated equipment, a Swiss Sinar camera and a plastic tent with further modern devices were purchased in September 2002. The ultimate goal of the digitization project is to copy all the ca. 1.8 million pages in St. Catherine's manuscript collection. But with the librarian, Father Justin, working alone, this goal will hardly be achieved soon.
Therefore, the complete documentation and thorough analysis of the Slavic collection will have to consist of the following, predominantly comparative, working units:
documentation of hitherto undocumented or insufficiently documented objects
(first or improved) codicological and palaeographic description
(first or revised) examination of contents
(first or revised) edition
composition of a comparative history of the collection
Included in this work will also have to be all those manuscripts which once belonged to the monastery and were later transferred to other places, be it during the 19th century by learned Russian travellers (e.g. the Sinaitic Glagolitic fragments of St. Petersburg), be it by unknown monks or pilgrims at an earlier date (e.g. the Kiev Folia or the Codex Assemanianus).
After the appearance of I. Tarnanidis' catalogue of the new findings in 1988 the Balkan Slavic project is just another step in the outlined direction: initiated in the early 1990s, it has since been devoted to the study of the Glagolitic manuscripts. In the beginning it was focused on preliminary editions of the new findings, on the base of the facsimiles provided by Tarnanidis: a transcript of Euchologii Sinaitici pars nova (Cod. Sin. slav. 1/N), prepared by Maria Schnitter (Plovdiv, then Freiburg i.Br.) and H. Miklas, and a first critical edition of Psalterii Sinaitici pars nova (Cod. Sin. slav. 2/N), prepared by a group of Czech palaeoslavists under the general editorship of František V. Mareš and H. Miklas. The latter edition, which also made available a hitherto undeciphered palimpsest page (fol. 32r), appeared in the series of the Balkan-Commission of the Austrian Academy of Sciences which has since aided the project.
As early as 1992 I. Tarnanidis and F. V. Mareš undertook the first steps towards preparing another edition, concerning the most exciting of the new findings: the Glagolitic Sacramentary (Missale Sinaiticum – Sin. slav. 5/N). On a journey to St. Catharine's in October 1992 they managed to obtain a series of coloured photographs of the fragment. But it was only at the end of 1995, a year after Mareš's death, that the decipherment of the pictures could be undertaken by H. Miklas and Velizar Sadovski. Even so, because of the extremely bad state of the manuscript this work progressed very slowly, and its base proved to be neither complete nor in any other respect sufficient for the task.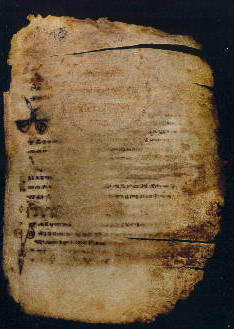 In 1996 another journey to St. Catherine's opened up the second phase of the project. In addition to a new series of photographs and a detailed description of the Missal, presented by H. Miklas at the Vienna "Glagolitica"-symposium in the same year, it also led to the detection of a palimpsest-part in the Missal. Furthermore, its results fostered the overall impression that the Glagolitic manuscripts of Mt. Sinai do not represent a random collection, but are intricately interwoven with one another (this is especially true of the Sinaitic Euchology and Missal, written by the same scribe).
In order to put the project on a proper basis, it was therefore necessary to enlarge it and to make use of the latest techniques for improving the readability of the manuscripts. Both aims required fund-raising, on the one hand, and the participation of technicians, on the other. While it was easy to attract the attention of representatives of the natural sciences for this endeavour, obtaining appropriate monetary support proved to be rather difficult. Finally, at the end of 2006 the Austrian Science Foundation decided to fund the project (FWF No. P19608-G12; cf. http://www.prip.tuwien.ac.at/research/current-projects/ sinai/ Sinai), and so since January 2007 the third phase of the project has started with the combined efforts of a philological team at the University of Vienna, and two technical teams at the Technical University of Vienna (headed by Robert Sablatnig), and the Vienna Academy of the Fine Arts (headed by Manfred Schreiner).
Meanwhile, after preparing all the equipment necessary, during a ten days' working stay at St. Catherine's (between Sept. 22nd and Oct. 2nd, 2007), they have succeeded in supplying digital and/or multispectral images (in the UV, VIS and NIR range) of six manuscripts and analysing their writing materials, especially inks and pigments, by means of soft X-rays-fluorescence-analyses (XRF): Missale Sinaiticum (Sin. slav. 5/N) and Psalterium Demetrii (Sin. slav. 3/N, incl. the medical folios) – entirely; Euchologii Sinaitici pars nova (Sin. slav. 1/N), Psalterii Sinaitici pars vetus (Sin. slav. 38/O), Psalterii Sinaitici pars nova (Sin. slav. 2/N) – excerpts.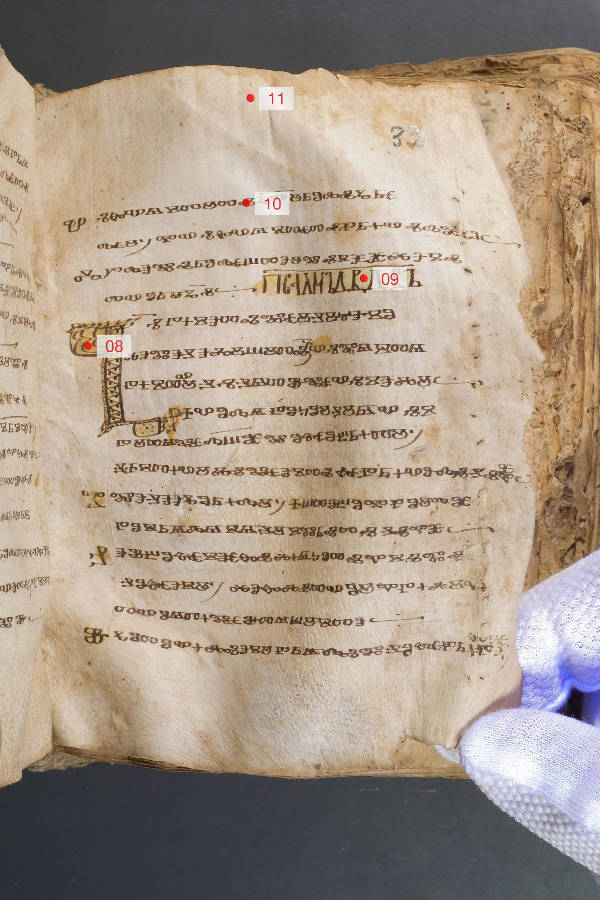 The philologists have also studied the codicology of the two Psalter-manuscripts and undertaken a search for the unknown manuscript from the binding of which in 1853 Porfirij Uspenskij and N. P. Krylov took two fragments to St. Petersburg (Cod. RNB glag. 2 and Cod. BRAN 24.4.8).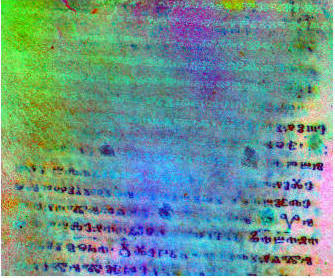 The next steps concern the registration and further development of the images on the one hand, and the examination and comparison of XFR-data on the other.
Then the philologists will try to read the latent text-material and prepare it for editing. Furthermore, they will embark on editing the Psalterium Demetrii.
List of Manuscripts and XML encoding
For the preliminary variant of XSL transformation of XML to HTML please use recent version of Firefox (Seamonkey) or Opera. This variant still does not work with the Internet Explorer.
This version is still very alpha quality. It needs improvements in design. The links in this version do not function. We are in process of constructing a central repository for bibliography and reference works called Libri Slavici which will available in the second half of the 2008.
You could browse the content of the whole directory here.
Literature:
Internet
Monastery:

Codex Sinaiticus:

Caucasus-Albanian:

Ligatus-Project:
Printed sources:
Bautier, R.-H. et alii: Lexikon des Mittelalters. Vol. 5. München-Zürich: Artemis, 1991, 371-376 (Ikone,-nenmalerei,-beschläge), 822-822 (Justinian), 1068-1069 (Katharina, hl. v. Alexandrien), 1498-1499 (Kreuzfahrerkunst); Vol. 7. München-Zürich: Artemis / Winckler, 1928-1929 (Sinai).
Christova, B.: Sv. Ekaterina. – In: KME 3, 542-546.
Coche de la Ferte, E.: Byzantinische Kunst. Mit über 1000 Illustrationen. Freiburg-Basel-Wien: Herder, 1982, 520-521 (Sinai/Katharinenkloster), 68, 68-69, 165, 166, 175, 176, 248, 256 (Ikonenmalerei).
Δαμιανός, Σ., Πελτικόγλου, Β. Ι., Π. Γ. Νικολόπουλος. Τα νέα ευρήματα του Σινά. Αθήναι 1998 (Engl. version: The New Finds of Sinai, ed. Holy Monastery and Archdiocese of Sinai. Athens: Ministry of Culture – Mount Sinai, 1999).
Géhin, P., S. Frøyshov: Nouvelles découvertes Sinaitiques: À propos de la parution de l'inventaire des manuscrits Grecs. − In: Revue des Etudes Byzantines 58, 2000, 167-184.
Grečeskie rukopisi III-XXvv. Katalog vystavki v Otdele rukopisej 27 oktjabrja – 10 nojabrja 2006 g. Sankt-Peterburg: Ross. Nac. Bibl., 2006.
Harlfinger, D., Reinsch, D. R., Sonderkamp, J. A. M. in Zusammenarbeit mit G. Prato: Specimina Sinaitica. Die datierten griechischen Handschriften des Katharinen-Klosters auf dem Berge Sinai. Berlin: Dietrich Reimer Vlg., 1983.
KME 3: Kirilo-Metodievska enciklopedija v četiri toma. T. III. Glaven redaktor L. Graševa. Sofija: Akad. izd. "M. Drinov", 2003.
Politis, L.: Nouveaux manuscrits grecs decouverts au Mont Sinai: Rapport preliminaire − In: Scriptorium 34 (1980) 1, 5-17.
Reallexikon zur byzantinischen Kunst. Unter Mitwirkung von M. Reste herausgegeben von K. Wessel. Bd. II. Stuttgart: A. Hiersemann, 1971, 144-152 (Enkaustik).
The Oxford Dictionary of Byzantium. Vol. 1. New York-Oxford: Oxford Univ. Press, 1991, 341 (Burning Bush), 392 (Catherine, monastery of Saint), 392-393 (Catherine of Alexandria), 679 (Egeria), 1646 (Pharan), 1770-71 (Raithu), 1902-03 (Sinai).
Afanas'eva, T. K voprosu o porjadke sledovanija listov i sostave Sinajskogo glagoličeskogo služebnika XI v. – In: Palaeobulgarica 29 (2005) 3, 17-35.
Birnbaum, H., J. Schaeken. Altkirchenslavische Studien I: Das altkirchenslavische Wort (Slavistische Beiträge 348). München: O. Sagner, 1997, 143, 143-150.
Clark, K. W. Checklist of Manuscripts in St. Catherine's Monastery, Mount Sinai, mircrofilmed for the Library of Congress, 1950. Prepared under the direction of… Washington 1952, 21-22.
Clark, K. W. Research Recources in St. Catherine's Monastery in Sinai. – In: Trudy XXV Meždunarodnogo kongressa vostokovedov. Moskva, 9-16 avgusta 1960g. T. I. Obščaja čast' zasedanij I-V. Moskva 1962, 517-522.
Džurova, A. Kakvo e donesăl patriarch Sava Srăbski ot Erusalim? (Ošte vednăž za ukrasata na Srăbskoto evangelie № 19 ot Erusalim). – In: Gjuzelev, V. T., Miltenova, A. L., R. T. Stankova (izd.): Bălgarija i Sărbija v konteksta na vizantijskata civilizacija. Sbornik statii ot bălgaro-srăbski simpozium 14-16 septemvri 2003, Sofija. Sofija 2005, 247-264.
Mathiesen, R. New Old Church Slavonic Manuscripts on Mount Sinai. – In: Harvard Ukrainian Studies 15, 1991, 192-199.
Penkova, P., M. Cibranska. Sinajski evchologij. – In: KME 3, 604-614.
Penkova, P.,I. Karadžorova: Sinajski psaltir. – In: KME 3, 616-622.
Rozov, V. A. Bolgarskie rukopisi Ierusalima i Sinaja. – In: Minalo 3 (1914) 9, 16-35.
Rozov, V. A. Srpski rukopisi Jerusalima i Sinaja. – In: Južnoslovenski filolog 5, 1925-26, 118-129.
Rozov, V. A. Južnoslavjanskie rukopisi Sinajskogo monastyrja. – In: Filologičeskie nauki. Naučnye doklady Vyšsej školy. Moskva 1961, Nr. 2, 129-138.
Schaeken, J., H. Birnbaum. Altkirchenslavische Studien II: Die altkirchenslavische Schriftkultur (Slavistische Beiträge 382). München: O. Sagner, 1999, 93-94, 104-110, 121-125, 170-176, 185-186.
Snoj, A. Staroslovenski rukopisi v Sinajskem samostanu Sv. Katarine. – In: Bogoslovni vestnik 16, 1936, 101-180.
Speranskij, M. N. Slavjanskaja pis'mennost' XI-XII vv. na Sinae i v Palestine. – In: Izvestija ORJaS 32, 1927, 43-118.
Spravočnik-ukazatel' pečatnych opisanij slavjano-russkich rukopisej. Sostavili N. F Bel'čikov, Ju. K. Begunov, N. P. Roždestvenskij. Moskva: AN SSSR, 1963, 273-274.
Tarnanidis, I. C. The Slavonic Manuscripts, discovered in 1975 at St. Catherine's monastery on Mount Sinai. Thessaloniki, 1988.
Tarnanidis, I. C. Glagolitic Canon to Saints Peter and Paul (Sin. slav. 4/N). – In: Filologa e letteratura nei paesi slavi (FS Sante Graciotti). Roma 1990, 91-97.
Velčeva, B. Kăsnata bălgarska glagolica. – In: Kirilo-Metodievski studii 12, 1999, 92-99, 102-107.
Velčeva, B. Psaltir na Dimităr Oltarnik. – In: KME 3, 417-418.
Velčeva, B. Sinajski malăk minej. – In: KME 3, 614-615.
Velčeva, B. Sinajski misal. – In: KME 3, 615-616.
Zagrebin, V. M. O proischoždenii i sud'be nekotorych slavjanskich palimpsestov Sinaja. – In: Iz istorii rukopisnych i staropečatnych sobranij (Issledovanija. Obzory. Publikacii). Sbornik naučnych trudov. Leningrad 1979, 61-80 (Repr.: Zagrebin, V. M. Issledovanija pamjatnikov južnoslavjanskoj i drevnerusskoj pis'mennosti. Sostavitel' i redaktor Ž. L. Levšina. Moskva–S.-Peterburg 2006, 215-231).
Barislowitsch, T. Untersuchungen zur glagolitischen Graphematik des Altkirchenslavischen. Unter besonderer Berücksichtigung der Graphetik des altbulgarischen Euchologium Sinaiticum aus dem 11. Jh. Diploma work, University of Vienna, 2007.
Diem, M., Lettner, M., Sablatnig, R., Registration of Multi-Spectral Manuscript Images. – In: D. Arnold, A. Chalmers and F. Niccolucci (eds.), Proceedings of the 8th International Symposium on Virtual Reality, Archaeology and Cultural Heritage VAST07, Brighton, UK, November 2007, 133-140.
Glagolitica – Zum Ursprung der slavischen Schriftkultur. Herausgegeben von H. Miklas unter der Mitarbeit von S. Richter und V. Sadovski. Wien: ÖAW, 2000. (ÖAW, Phil.-hist. Kl., Schriften der Balkan-Kommission, Philologische Abt. 41)
Lettner, M., Diem, M., Sablatnig, R., Kammerer, P., H. Miklas. Registration of Multispectral Manuscript Images as Prerequisite for Computer Aided Script Description. − In: M. Grabner, H. Grabner (eds.), 12th Computer Vision Winter Workshop, St. Lambrecht, Austria, February 2007.
Lettner, M., Diem, M., Sablatnig, R., H. Miklas. Digital Image Analysis for the Investigation of Ancient Manuscripts. – In: CAA07 − Layers of Perception, Berlin/Germany, April 2007 (forthcoming).
Miklas, H. Fragen und mögliche Antworten zu den frühesten Zeugnissen des kyrillomethodianischen Schrifttums, in: Thessaloniki − Magna Moravia. Proceedings of the International Conference Thessaloniki, 16-19 Oct. 1997. Thessaloniki: Hellenic Association for Slavic studies/SS Cyrill and Method Center for Cultural Studies, 1999, 201-215.
Miklas, H. Zur Einordnung des Westgutes im altkirchenslavischen Schrifttum – In: V. Gjuzelev, A. Miltenova (eds.): Srednovekovna christijanska Evropa: Iztok i zapad. Cennosti, tradicii, obštuvane/Medieval Christian Europe: East and West. Tradition, Values, Communications. Sofia 2002, 114-131.
Miklas, H. Analysis of Traditional Written Sources with the Aid of Modern Technologies, in: EVA 2004 Moscow Conference – 29 Nov-04 Dec 2004 <http: //conf.cpic.ru/eva2004/rus/reports/report_211.html>.
Miklas, H. Zur Relevanz des neuen sinaitischen Materials für die Entwicklungsgeschichte der Glagolica. – In: . Dürrigl, M.-A., Mihaljević, M., F. Velčić (eds.): Glagoljica i hrvatski glagolizam. Zbornik radova s međunarodnoga znanstvenog skupa povodom 100. obljetnice Staroslavenske akademije i 50. obljetnice Staroslavenskog instituta (Zagreb – Krk 2.-6. listopada 2002). Zagreb: Staroslavenski institut/Krčka biskupija, 2004, 389-399.
Miklas, H. Zum Gang der Erforschung der glagolitischen Neufunde im Katharinenkloster auf dem Sinai. – In: Moskovich, W., S. Nikolova (eds.): Jews and Slavs. Jerusalem/Sofia: 2008 (forthcoming).
Psalterii Sinaitici pars nova (monasterii s. Catharinae codex slav. 2/N). Ad editionem praeparaverunt P. Fetková, Z. Hauptová, V. Konzal, L. Pacnerová, J. Švábová; sub redactione F. V. Mareš † (H. Miklas). (ÖAW, Phil.-hist. Kl., Schriften der Balkan-Kommission, Philologische Abt. 38, Fontes Nr. 2). Wien: ÖAW, 1997.
Schnitter, M., H. Miklas. Kyrillomethodianische Miszellen. Anzeiger für slavische Philologie 22, 1994, H. 1, 141-220.